This is a Sponsored post written by me on behalf of Scotts Miracle-Gro for SocialSpark. All opinions are 100% mine.
Planting is one of the best activities to have especially this spring season. Thus, if you want to try something new... why don't you engage your kids or the whole family to create your own yard instead?
Of course, when it comes to this stuff… there are a lot of things to consider. And one of it is choosing the best soil for planting. In this case, we often find it hard since there is soil that doesn't provide good result to our plants. Thus, we come up in using fertilizers. However, there are a lot of choices to choose for. And if you are living in Florida, Scotts Florida Select Natural Eucalyptus Mulch is a good choice to use as alternative for cypress.
To come up with a sustainable gardening result, make sure to know what fertilizer or mulch to use.  Unlike with other kinds, this particular mulch is very reliable. It is sustainable as it helps your plant grows 4 times faster than cypress, all were made naturally, also helps the local economy and most of all proven effective.
When it comes to creating your yard, it is very important to have at least the basic gardening supplies to start up everything. Hose, wheel borrow, hand trowel, soil, lawn, seeds to plant and fertilizer are just some of the things needed in preparing such thing. Thus, when you come up with this idea always make sure to ready everything.
And since spring is coming, my family and I decided to create our own too. But then, we will still decide if which of the following ideas to consider. Sure they are all beautiful, isn't it?
(Me and the TULLIPS @ husband's Office)
(Tullips @ Husband's Office)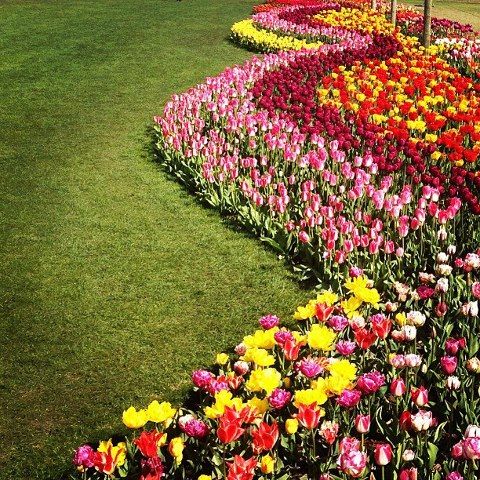 (My Dream Garden)
Meanwhile, if you do live outside Florida yet wanted to have the same result… you can try Scotts Nature Scapes mulch instead. This comes with 3 different colors and is also made with natural forest products, Classic Black, Sierra Red, and Deep Forest Brown. Thence, if you are still in the process of making your yard/garden... why not give a try of using any of the available variant. Surely, you won't regret of choosing it.